Posted on
By Gordon Smith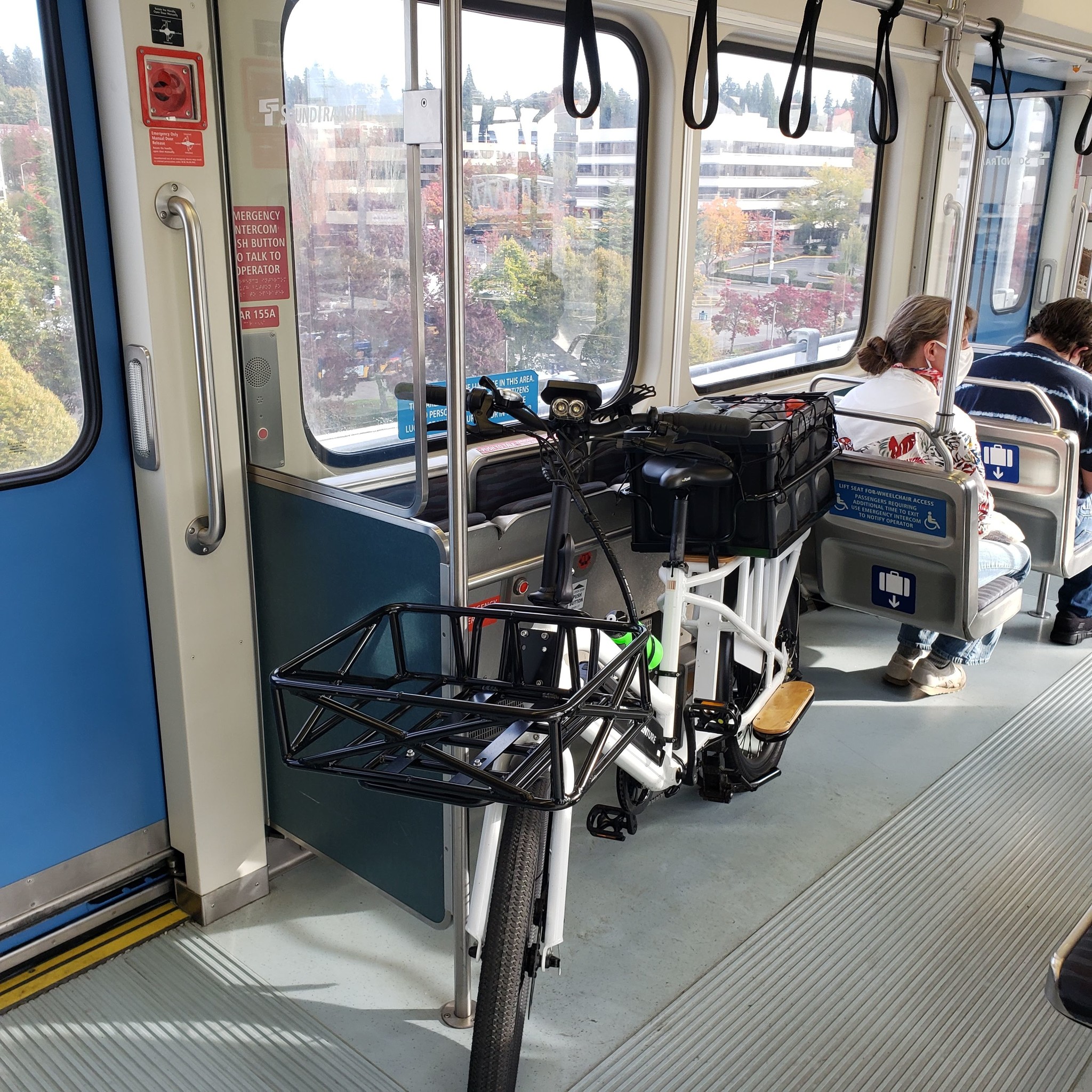 E-Bike ride on the new Northgate Light Rail in Seattle to Downtown and back.,
We heard that the new Northgate Light Rail station was open, so we wanted to try and  bring our e-bikes on the train to see how it works. We decided to go Downtown Seattle and visit our friend Anders at the Pike Place fish market. We made it downtown and had a great time and a great lunch on a beautiful day. This is how we did it.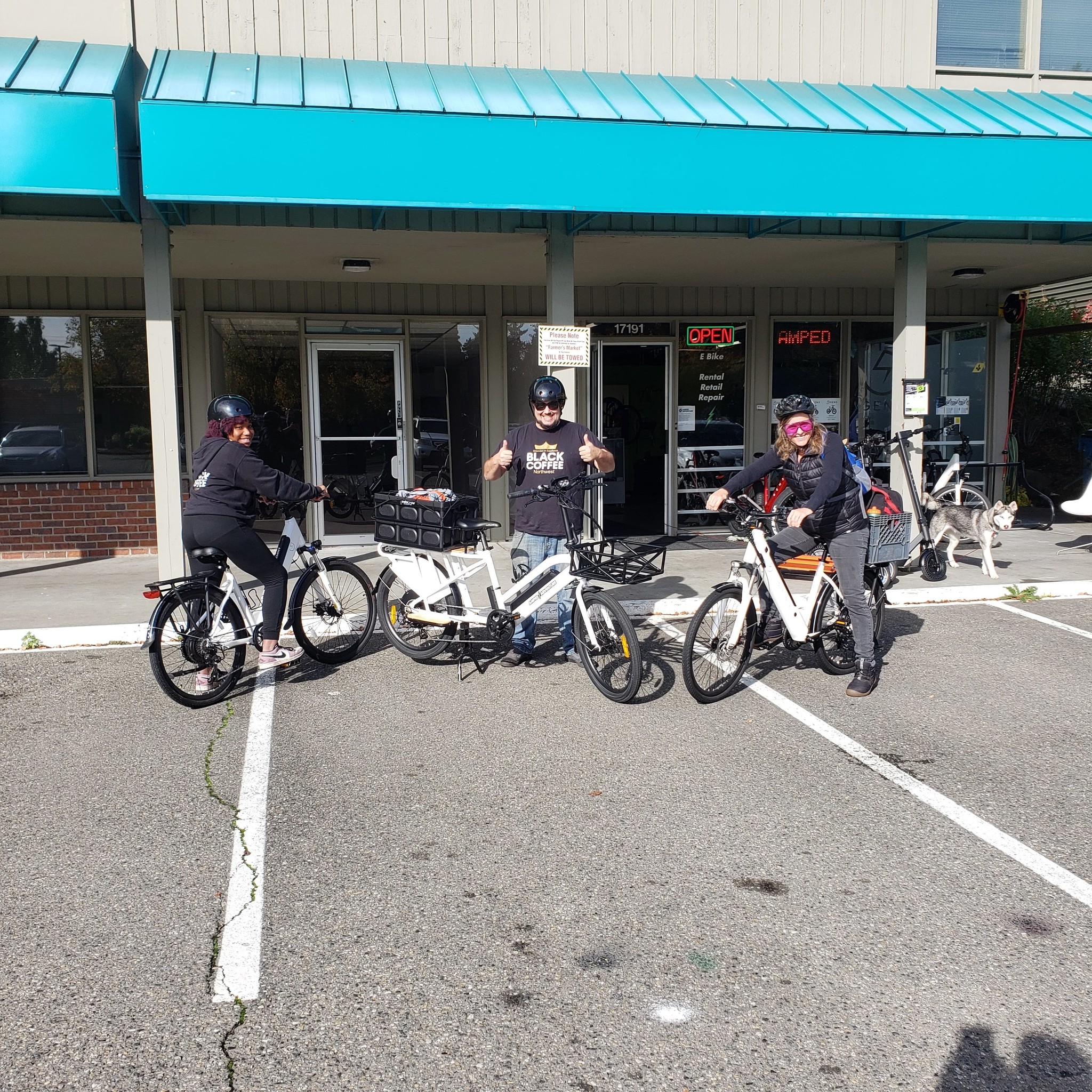 First we rode from Amped Adventure Bike Shop in Lake Forest Park, to the Northgate Light Rail station. We rode up the big ramp expecting to get to the train, but the ramp only takes you to the level where you can purchase tickets. The train is one level up. There was a Husky game and a big line so the friendly Sound Transit employee told us to download an app as it would be quicker, and he was right. The app is called Transit Go and it's super easy to set up and purchase tickets. He also said no problem getting your bikes up, just take the elevator, which is what we did and all three bikes fit in one elevator ride.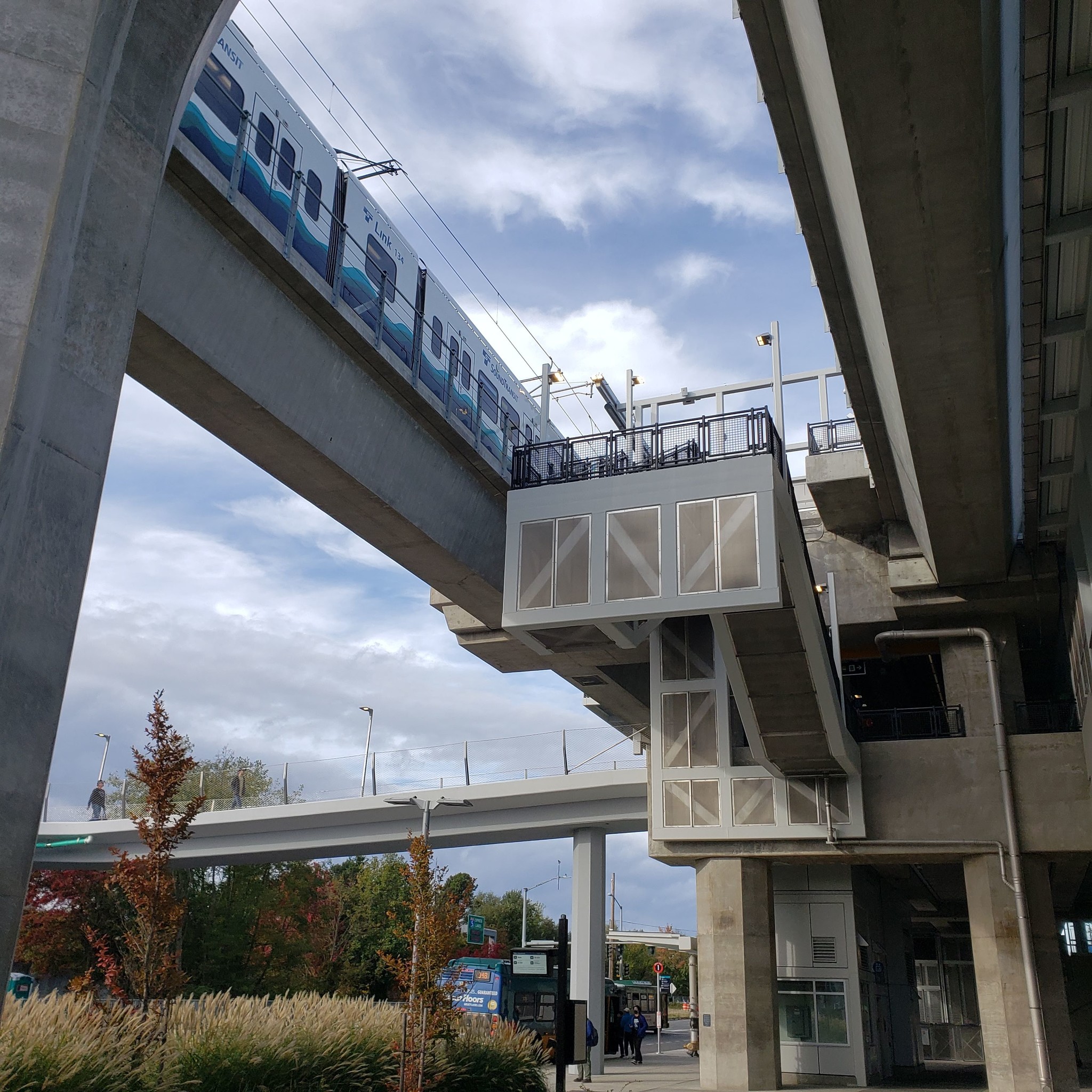 It was only a couple minutes before the next train arrived. It was easy to just roll right on the train with our bikes. There is no step or ledge, you could simply roll right on the train. There's a designated bike area with hooks to put your bike vertically, however e-bikes are heavy and we did not use those hooks. We ended up having two people stand in one entrance and I stood in the other entrance, just so we weren't totally crowding an area. If you block someone they can turn around and a couple feet on the other side is another door so it's pretty easy to find a spot that is not totally obtrusive. I ended up standing next to my bike the whole time, but it's a pretty short ride. It was pretty easy. It might be difficult or annoying if the train is very full and you have multiple people with multiple bikes, and this train was pretty full because of the football game, but no one seemed to have a problem with us and our, bikes and everything worked just fine.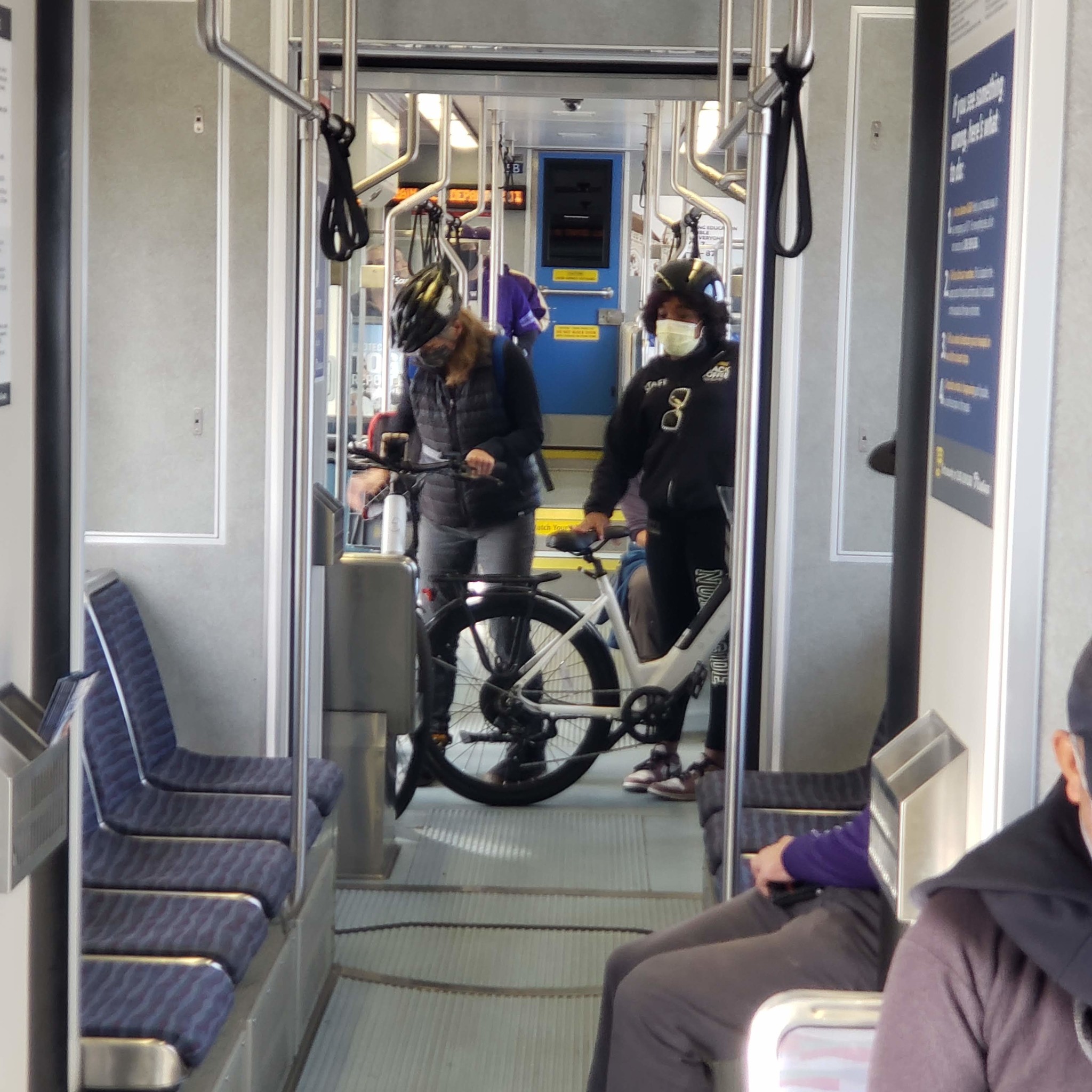 The train ride from Northgate to Westlake station was only 15 minutes. Westlake station is very close to Pike Place Market. When we got to Westlake it was an underground station so you had to take an elevator, actually two, to get from the train level to the street level. The elevators at Westlake station are very small,  and we had to go on it 1 at a  time, but it was still easy and we all made it up to the street level just a couple blocks from Pike Place Market.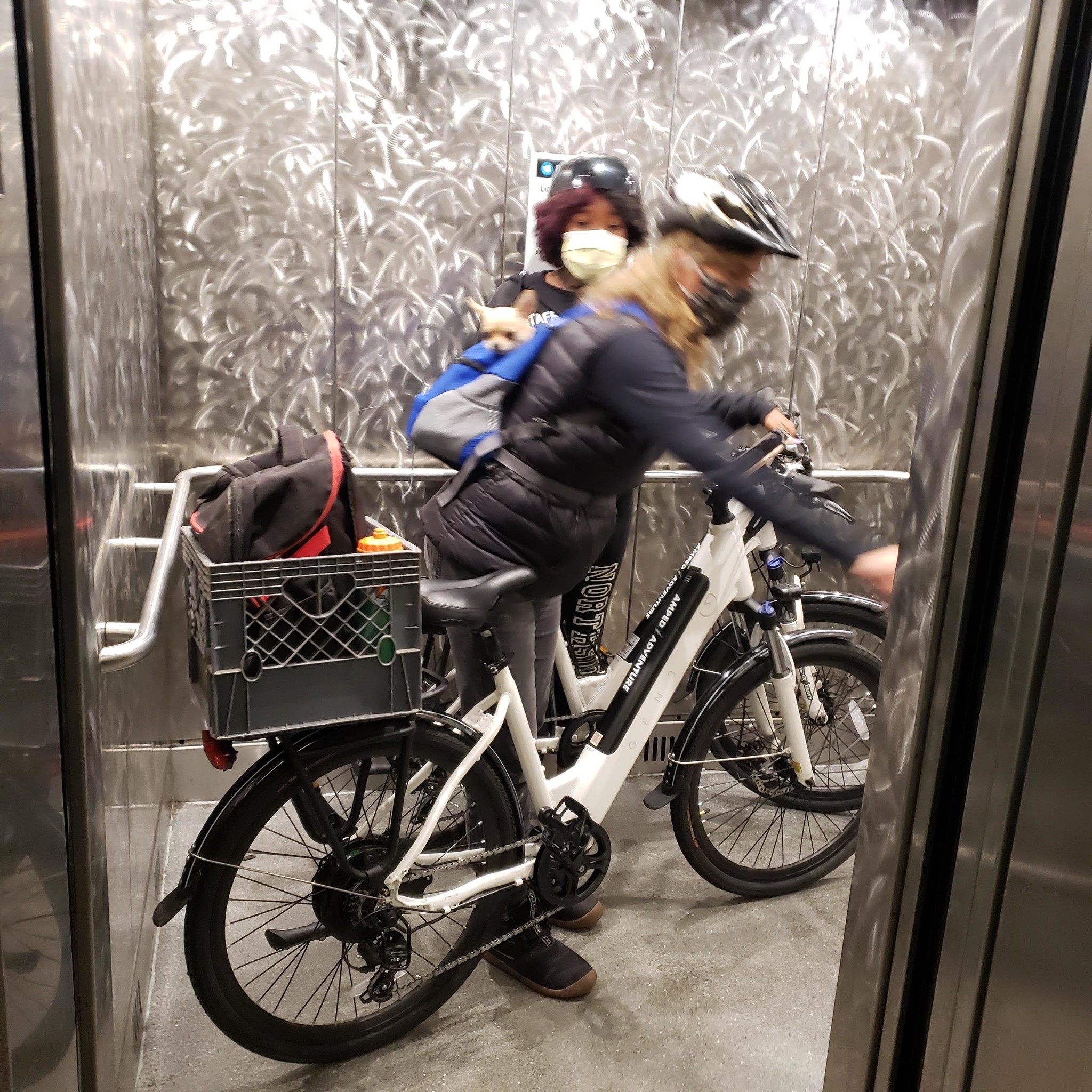 It was a beautiful day and Pike Place was buzzing. It was nice to see people out in Seattle again. Unfortunately when we got to Pike Place our friend Anders was not  working that day and we didn't get to see him in action. However we did have some crab cocktail, and got some shrimp to go, and of course watched some fish flying and the Pike Place Fish Market Crew doing their thing. Every place was too busy for us to sit and eat lunch, so we headed down to the pier in hopes of finding something to eat. Locking our bikes up near Pike Place was easy. There are lots of bike racks on the street where you can lock your bike.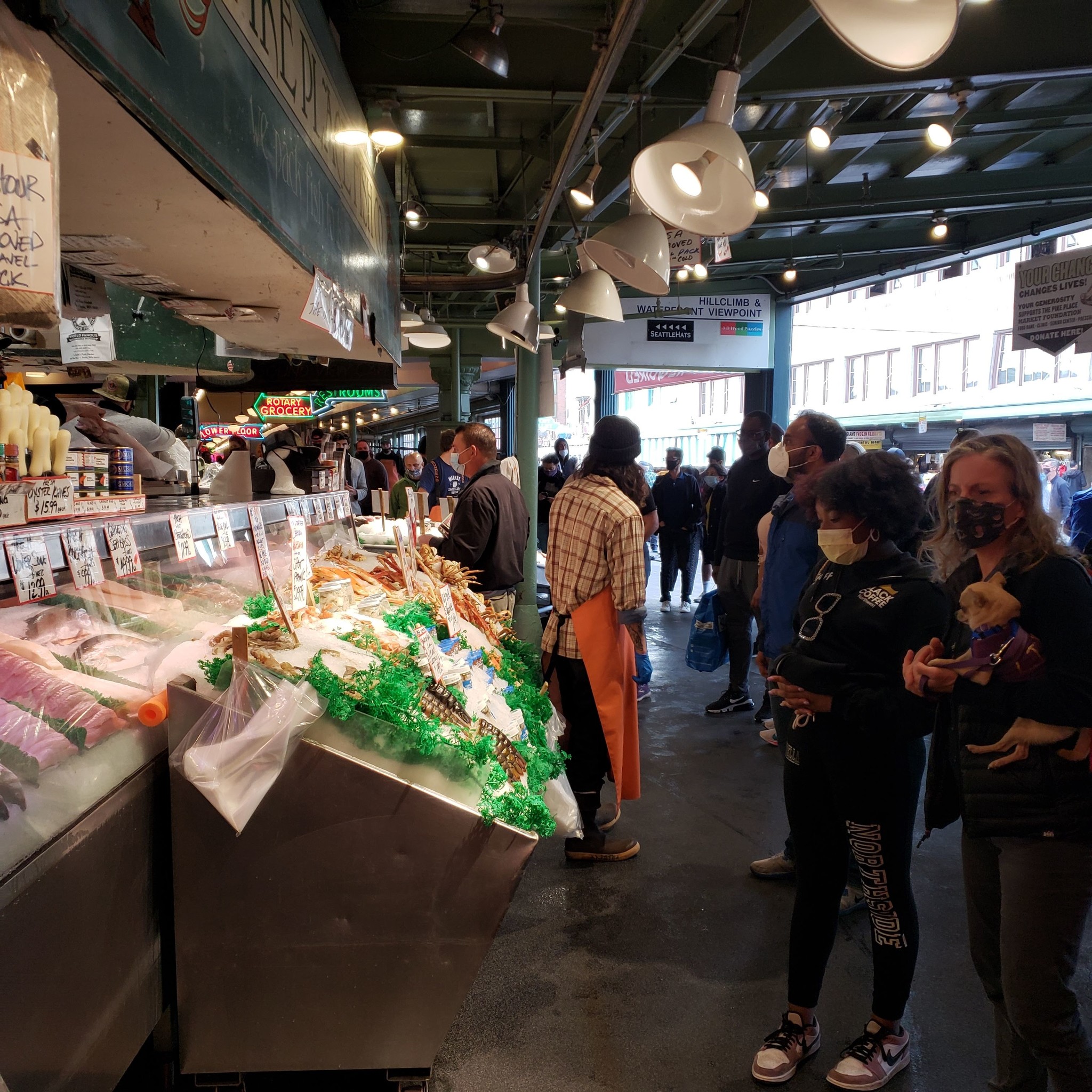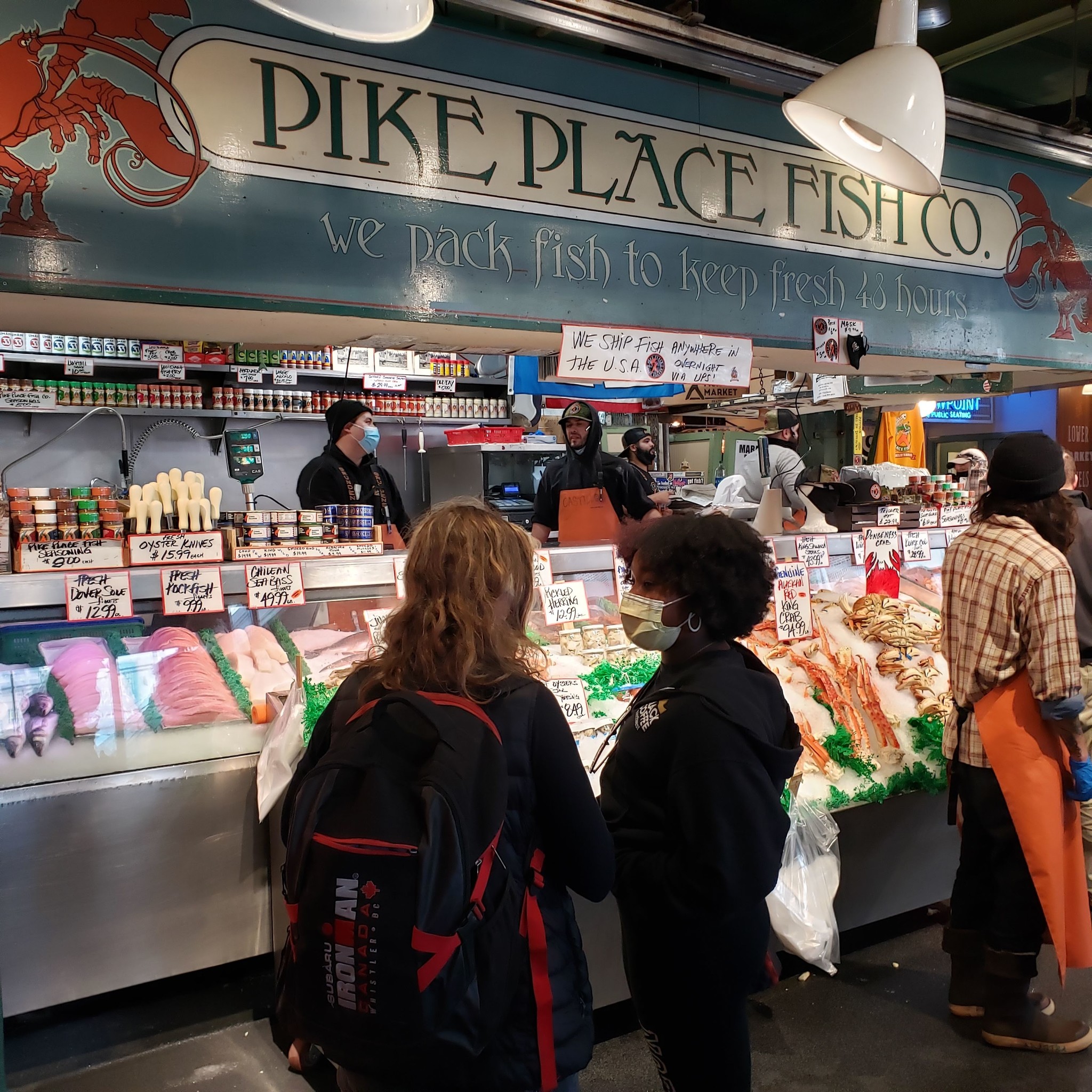 The pier was also very busy on a sunny day but the restaurants were much less crowded than up at Pike Place, so we hit the wing Dome for some Beyond burgers and wings for Cedella, and it was very tasty. We had a spot on the patio outside with no one around us so we could relax and enjoy our meal.  I had the Beyond Burger with Waffle Fries, and a dinner salad, and some 3 alarm wing sauce drizzled on everything, and of course it was stellar.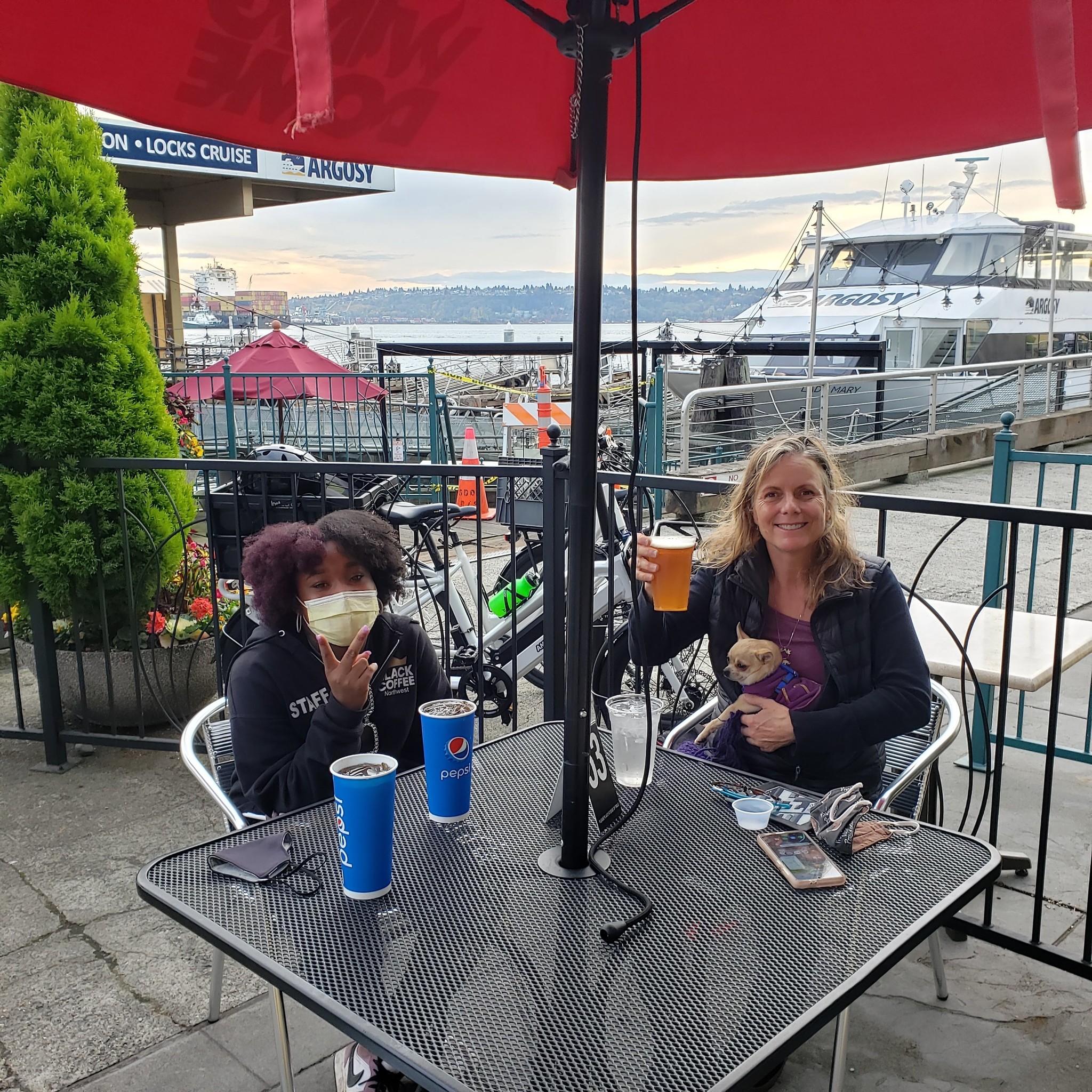 After lunch we decided to try a different route home, so we rode our bikes to the stadium to catch the train there, but we soon realized, that the light rail is in a different station than the Sounder train so we had cross over to the international district sound transit station, take the elevator down to the trains, to get back north.  There are two entrances from the street level, the west one is for southbound and the east one is for northbound, we learned the hard way.  
Again a train arrived in just a few minutes as they come every ten minutes, we strolled right on and found a spot easily near the door, and 18 minutes later we were back at Northgate.
I highly recommend using the light rail with your e-bike. It's a little tricky taking the elevators down and back up from the train levels, but once you know where the elevators are located, and can get over the smell of some of the downtown elevators, it's pretty easy. It's also great being downtown with an e-bike as there are lots of hills, which are no problem for the GEN3 e-bikes.
We rode 14 miles, up lots of hills, still had plenty of battery to go, and easily commuted from Lake Forest Park to Downtown Seattle and back to our house in Shoreline.  I highly recommend going for and adventure on your bike to Downtown using the Sound Transit Light Rail.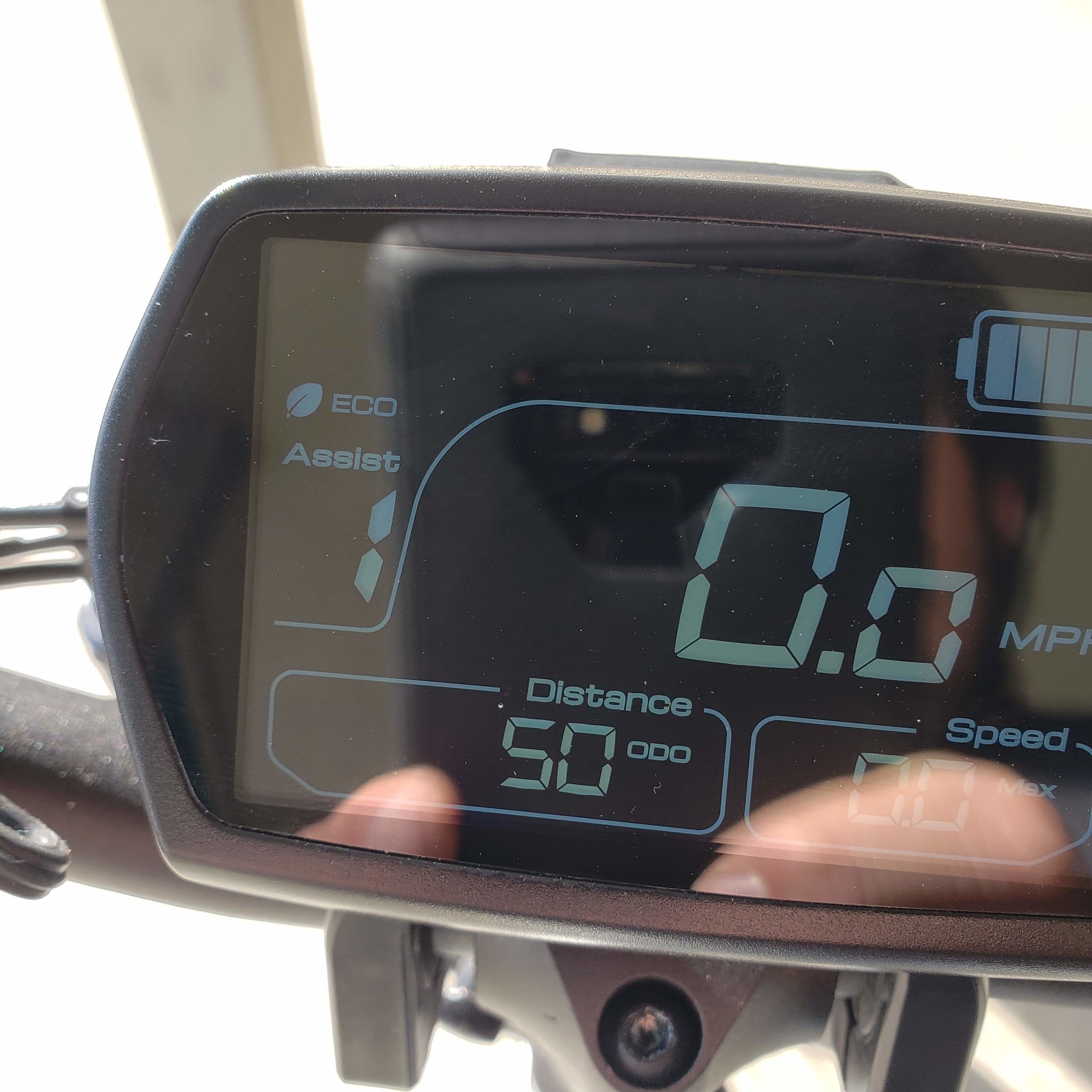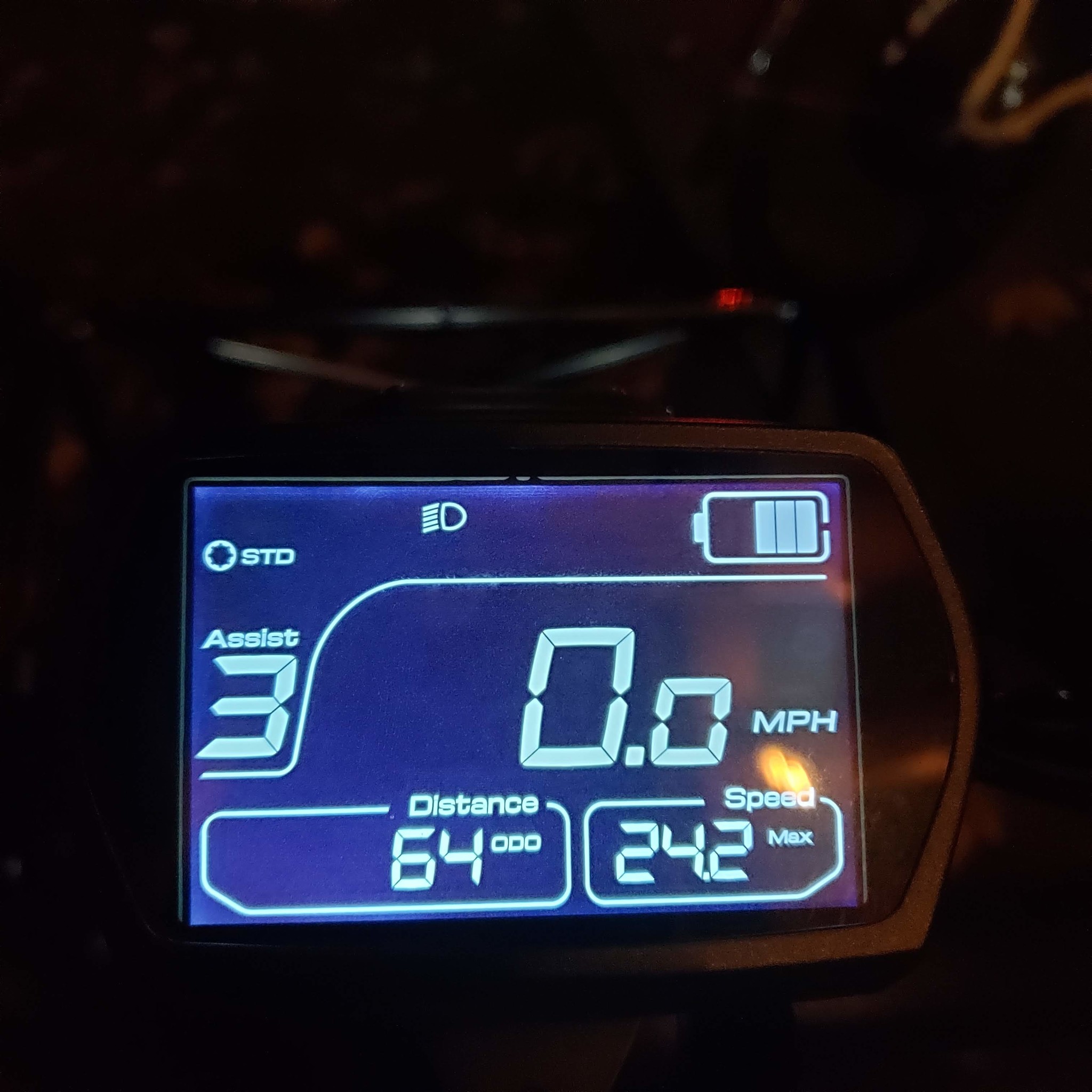 I'm looking forward to the opening of the Light Rail station in Shoreline so I can take my e-bike From Shoreline to downtown and back again. bike commuting is the future. An electric scooter would also be a good option, however with all the hills downtown I'm not sure if the scooter would have still had enough juice to get home, I guess I'll just have to find out for myself on a different amped adventure. I'd love to hear all about your Amped  Adventures, and if you want to write a blog post about your e-bike or e-scooter experiences, hit me up. [email protected]